Four Common Types of Business contracts
Business contracts are created to suit the situation and on an "as needed basis", for instance:
Work-for-Hire: Companies create a Work-for-Hire contract when they are hiring an outside contractor to perform certain tasks. The contractor works independently and is responsible for claiming the money he or she makes to the IRS.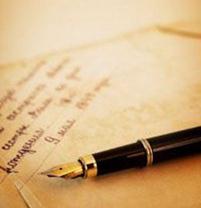 Confidentiality or Non-Disclosure: This contract protects the company's personal and confidential material. If the company is sharing valuable client information or trade secrets, it is important that this contract be in place. By agreeing to this type of a contract, the independent contractor is agreeing to NOT disclose business information or use trade secrets for personal gain.
Non-Compete: This type of a contract stops the independent contractor from competing with your business or stealing your ideas. Anyone that he or she comes in contact with must be addressed as your client, not theirs.
Service Agreement: A service agreement is common among online business services. The contract ensures that both parties receive what they expect. The client receives the work he or she has hired you for, and you receive payment for your services. This agreement should always be signed. If your client can't sign it, have them fax it to you.
Never work without a business contract!
Exercise 15. Imagine that after graduation you are offered to work in a dental clinic in the USA. You should fill in this form.
---
Дата добавления: 2015-02-05 | Просмотры: 543 | Нарушение авторских прав
---
1 | 2 | 3 | 4 | 5 | 6 | 7 | 8 | 9 | 10 | 11 | 12 | 13 | 14 | 15 | 16 | 17 | 18 | 19 | 20 | 21 | 22 | 23 | 24 | 25 | 26 | 27 | 28 | 29 | 30 | 31 | 32 | 33 | 34 | 35 | 36 | 37 | 38 | 39 | 40 | 41 | 42 | 43 | 44 | 45 | 46 | 47 | 48 | 49 | 50 | 51 | 52 | 53 | 54 | 55 | 56 | 57 |

58

| 59 | 60 | 61 | 62 | 63 | 64 | 65 | 66 | 67 | 68 | 69 | 70 | 71 | 72 | 73 | 74 |


---