II. INTERROGATIVE SENTENCE

Do " Do they work every day?

Does €,,… Does she often meet them?

III. NEGATIVE SENTENCE
" do +
€,,… does I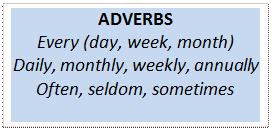 They don't often visit their relatives.
She doesn't meet them weekly.
Exercise 21:Put verbs into a right form:
1.I often (go) to the chemist's shop.
2.He sometimes (ask) for my advice.
3.He (have) a lot of trouble with his heart.
4.I often (complain) of a toothache.
5.His wife often (visit) her dentist.
6.Different atoms (make up) different elements.
7.The gas (combine) readily with many other elements.
8.Nitrogen (make up) 80 per cent of the air.
9.Water (cover) three-quarters of the Earth's surface.
10.A theory usually (involve) some ideas about the nature of some part of the Universe.
11.Every science (have) its laws.
12.The periodic law (help) chemists in their work.
13.Chemistry (deal) with the changes in the composition of matter.
14.We (attend) lectures every week.
15.This student (get) bad grades.
Exercise 22:Put the following sentences into interrogative and negative forms:
1.Every week we carry out many experiments.
2.He devotes his life to the development of chemistry.
3.Chemistry plays an important role in everyday life.
4.Chemical education requires practical skills.
5.I go to my academy by bus.
6.Students studying dentistry have their practice at the end of each year.
7.Everybody knows the periodic law.
8.Scientists explain facts about atoms and their structure.
9.He creates a new theory.
10.Chemistry's origin goes back to ancient times.
11.He has practical classes every day.
12.Sometimes we prepare our homework in English together.
13.Chemistry is a difficult subject.
14.Our group takes an active part in the scientific work of our academy.
15.She often receives letters from her parents.
---
Дата добавления: 2015-02-05 | Просмотры: 864 | Нарушение авторских прав
---
1 | 2 | 3 | 4 | 5 | 6 | 7 | 8 | 9 | 10 | 11 |

12

| 13 | 14 | 15 | 16 | 17 | 18 | 19 | 20 | 21 | 22 | 23 | 24 | 25 | 26 | 27 | 28 | 29 | 30 | 31 | 32 | 33 | 34 | 35 | 36 | 37 | 38 | 39 | 40 | 41 | 42 | 43 | 44 | 45 | 46 | 47 | 48 | 49 | 50 | 51 | 52 | 53 | 54 | 55 | 56 | 57 | 58 | 59 | 60 | 61 | 62 | 63 | 64 | 65 | 66 | 67 | 68 | 69 | 70 | 71 | 72 | 73 | 74 |


---